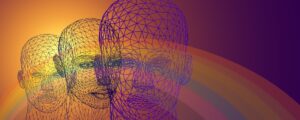 "Mirroring" is a unique practice Royce teaches her clients and shares on her show "The Perfect Life Awakened".  She explains that the emotional energy we often push down within us because we're uncomfortable with the sensation is reflected in those around us.
Examples are provided on this show to help all of us recognize our anger, anxiety, sadness or other emotional reactions are "gifts" to help us heal some aspect within our life we have been avoiding.
Royce Morales is a Transformational Facilitator, Author, Blogger, Speaker, and TV/Radio Host.  The show today focuses on "Mirroring" and what is meant by this behavior.
Royce can be reached via the following links:
"The Perfect Life Awakening Show" airs the first and third Wednesday of the month at 9:00 a.m. PST.
Listen to this week's program below or on your podcast platform of choice by clicking Here.
Lucy is available for Life Coaching sessions.  If you have interest or would like to set up a session please reach out to her via her LinkedIn profile here.
As mentioned above, we are pleased to announce that you can now listen to The Synergy Connection Show on Spotify, Apple, Google, and iHeartRadio.  Stay tuned and be sure to Follow us on your podcast platform of choice to be notified when new shows are released.
I'm also excited to announce that the new edition of my book The Adventures of Miss Twiggs & Company is now available on Amazon.  Please pick up a copy at the link above and please leave a review!
Image by Gerd Altmann from Pixabay