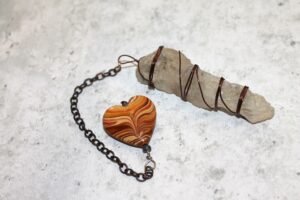 What is dowsing?  It is considered a metaphysical art form that helps a person access a divine power for information.  Dowsing has been used for centuries and many years ago, it was a method that helped people find underground water sources.  In its most simple form, dowsing aids in decision making and answering questions.
Mary Crawford brings 20 years of experience in working with dowsing instruments to help her clients release trapped emotional energies and understand their nutritional and physical needs.  In doing this work, she can help individuals connect to their bodies as well as their inner truths so they can live their best life.
Mary can be reached for consultations via her website TheJoyOfBeingWell.com
Listen to this week's program below or on your podcast platform of choice by clicking Here.
As mentioned above, we are pleased to announce that you can now listen to The Synergy Connection Show on Spotify, Apple, Google, and iHeartRadio.  Stay tuned and be sure to Follow us on your podcast platform of choice to be notified when new shows are released.
I'm also excited to announce that the new edition of my book The Adventures of Miss Twiggs & Company is now available on Amazon.  Please pick up a copy at the link above and please leave a review!
Image by Amber Avalona from Pixabay