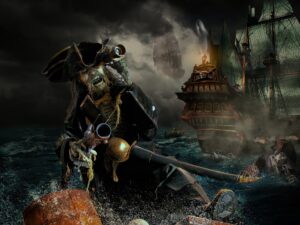 When most of us think about pirates and who they were in history, we see them as robbers who traveled by water.  According to history books, most pirates were people who had been forced into their criminal activities to survive.  They stole vessels with their cargo around the coastal areas of the world.  Sometimes governments hired "Privateers" to capture sea trade and "Buccaneers" were government-sponsored pirate crews who were paid to attack Spanish ships in the 17th century.
During the show today, Robert Jacob and I discuss how he became interested in pirates.  He has written two books on pirating and he and his wife do live history interpretations and reenactments throughout the country. Robert retired from the Marines after 31 years, but he continues to lead a very active life and is available to lecture on a variety of historical topics.
Robert Jacob can be reached via the following links:
Listen to this week's program below or on your podcast platform of choice by clicking Here.
As mentioned above, we are pleased to announce that you can now listen to The Synergy Connection Show on Spotify, Apple, Google, and iHeartRadio.  Stay tuned and be sure to Follow us on your podcast platform of choice to be notified when new shows are released.
I'm also excited to announce that the new edition of my book The Adventures of Miss Twiggs & Company is now available on Amazon.  Please pick up a copy at the link above and please leave a review!